What is a Thermal Performance assessment.
A Thermal Performance assessment gives a quantified measure of heating and cooling energy loads for a paarticular dwelling. The assessment is done by inputting building design details into a computer programme. The heating and cooling loads are needed in the Thermal Comfort section of BASIX.
Typical Documents.
Typical documents consist of a stamped Thermal Specification on a nominated sheet of a set of plans and the ABSA assessor certificate.
| | |
| --- | --- |
| Thermal Specification | The ABSA certificate (A4 size) |
| | |
Sample of a stamped Thermal Specification on a nominated plan.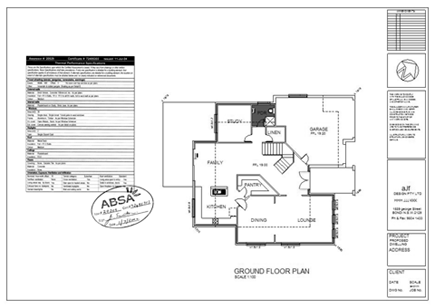 Assessment procedure.
Six easy steps
Contact office and get a fee proposal. Send plans by fax or email for quick reply. Email plans can be read in various formats including PDF.
On acceptance of fee proposal/quote, a checklist will be sent back to you. **
Fill in checklist.
The assessment will be done and a report on the interim results will be sent.
We then work with you to get the best results possible.
The plans are notated and Thermal Specification is placed on plans, stamped and signed. One set of plans is retained by Ecocorp for ABSA audit requirements
** Note: A deposit payment is required to do the assessment. Balance on completion. A tax invoice which outlines easy payment options including credit card and BPay will be sent if fee proposal is accepted.
Checklist
Checklist of details needed
IMPORTANT . Leave a space, 120mm wide by 150mm deep, on one sheet of the plans for the Thermal Specification to be placed. For a dual occupancy leave two spaces
Site plan, floor plans, elevations and sections scaled(1:100) and dimensioned. Plan sheets numbered.
True North or magnetic North shown on plan
Roof materials ( eg tiles)
Colour of roof materials (Light, medium or dark)
Ceiling material ( eg plasterboard)
External wall materials ( eg brick veneer)
Colour of external wall materials (Light, medium or dark)
Internal wall materials
Window type ( eg timber), size and position.
(Essential to show sizes of windows or glazed doors that do not appear on an elevation)
Shading devices if any, size and position
Type of first floor construction
Type of floor coverings on first floor eg carpet
Type of ground floor construction
Type of floor coverings on ground floor eg ceramic floor tiles
Fees
The time to do an assessement varies depending on the complexity of the design. Please contact the office for a fee proposal for any residential development, including multi-residential developments.
You can fax or email plans to the office for a quote. Faxed plans will typicaly not be to scale but that is OK to do a fee proposal.