What is BASIX;
BASIX is a planning initiative of the NSW Government that requires all new dwellings to to be designed and built to achieve a 40% reduction in water consumption and 40% reduction in greenhouse gas emissions compared to the average dwelling.That is, new dwellings have to use less water and be more energy efficient.
A BASIX certificate has to be lodged with the Development Application plans. Typically the BASIX certificate for a single dwelling is a six page document, with a unique certificate number. A BASIX certificate for a large multi-unit residential development may be twenty four pages.
A typical BASIX certificate for a single dwelling includes commitments that certain items will be included in the construction. For example some commitments could be R2.5 ceiling insulation, a 3000 litre rain water tank and a solar hot water system. A building certifier will check that all BASIX commitments have been built or installed before issuing an occupancy certificate.
Typical Documents for a new dwelling.
Ecocorp uses the second generation software tool, BERS PRO, to do the Thermal Comfort section of the BASIX certificate.The complete document set for a single dwelling would be:-
and (3) a set of plans with a Thermal Specification attached on one nominated sheet. The Thermal Specification has same number as the ABSA certificate and is stamped and signed.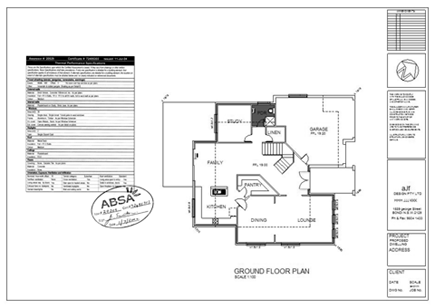 What are the requirements to get a BASIX certificate?
The BASIX certificate is produced by inputting information into the BASIX website run by the NSW Government. Rather than prescribing specific design features or technologies, BASIX is flexible, allowing many choices about how to meet the required water and energy reductions.
To get a BASIX certificate, the design needs to satisfy requirements in three areas
Water.
A minimum score of 40 in Water is required by BASIX for houses in Sydney. Some regional areas of NSW will have lower minimum score required. A typical single dwelling design will meet the target for water conservation if it includes:
showerheads and tap fittings with at least a 3A rating
dual flush toilets; and
a rainwater tank for garden water use and toilet flushing and/or laundry.
Multistorey units can achieve compliance using water efficient appliances ( eg washing machine) instead of using rainwater tanks. Top of page
Energy.
A minimum score of 40 for Energy is required by BASIX for single dwellings. A typical single dwelling design will meet this target if it includes:
an efficient hot water system; and
design features that make the most of natural heating, cooling, and lighting.
Choices regarding energy consuming items such as lights, cooktops, hot water service, air conditioning etc must add up to 40 points to satisfy the energy requirements of BASIX. .Top of page
Thermal Comfort
The score in Thermal comfort is a simple PASS or FAIL. A dwelling will get a pass if there is an adequate level of thermal performance for winter and summer appropriate to its climate.
The Thermal Performance requirement can be achieved either by completing the information on the BASIX site or by having an energy assessment done by an accredited assessor and using the results on the BASIX web site.
FEES
The time to do a BASIX assessement varies depending on the complexity of the design and the choices desired by a client. Please contact the office for a quote.
You can fax or email plans to the office for a firm quote. Faxed plans will typicaly not be to scale but that is OK for a quote. Top of page